What Does God Want for You?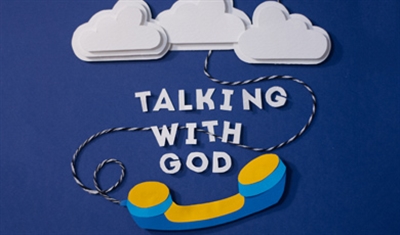 Do you talk to God and know what his desire is for you? If you say yes, people may be concerned you are hearing voices. But yes, God does speak to me. In Genesis 1, we are introduced to a speaking God. God speaks and creation comes into being. Eleven times in Genesis 1 the verb "to say" is used about God. There is also communication inside of the Trinity that we hear in this first chapter, "Let us make man in our image, in our likeness" (Genesis 1:26). In every category of books in the Bible we will find that God is a speaker. Graham Cole wrote about God in the Scriptures, "as a speech agent who promises (Genesis 12:1-3), permits (Genesis 2:16), warns (Genesis 2:17), informs (Exodus 3:14), and questions (1 Kings 19:9). (Graham Cole, "Some Theological Reflections on the Canon")
Revelation of His Name
God reveals his name, revealing his identity as one who speaks and acts. The word of God is a performative word accomplishing the very work it announces. The content of the name of God is filled by what he does. Brevard S. Childs wrote about Exodus 3 when God reveals his name, "God is saying that the subsequent events of history will pour content into the name." (Brevard S. Childs, Biblical Theology of the Old and New Testaments, 355) We worship God because he is the one who speaks our world into being. He is the one above us in authority that alone desires and deserves our worship.
Salvation
The Holy Bible is a book set apart from all other books because it is the revelation that God desires our redemption. We find in this book recognition of our fall into sin. The Law of God shows us a mirror into our descent. We are not standing still. Our sinful flesh is falling apart. The very God against whom we have rebelled reveals that he desires us to be restored to a right relationship with him and his created world. The gospel is the message of our way back to God and his world through the mercy of Jesus Christ. Paul wrote to Timothy with confidence about the mission of God, "who wants everyone to be saved and to come to the knowledge of the truth" (1 Timothy 2:4).
Walking with God
Genesis 1 shows God created us to be in his image. God has created us to walk with him. God walked in the garden with Adam and Eve. Even when they had sinned God walked in the cool of the garden to seek out Adam and Eve. They were hiding because they were afraid. God wanted to walk with them. God called to Abram to go to the land that he would show him (Genesis 12:1-3). When God rescued the children of Abraham from slavery in Egypt, he guided them with a pillar of cloud by day and a pillar of fire by night. God walked with them and revealed how they were called to live as his promised people. God gave to them the Law so that they would be a people on earth set apart by the name of the Lord. Leviticus 19:2 describes what it means to walk with God, "be holy because I, the LORD your God, am holy." We continue to walk with God as Christians. The first Christians were known as members of The Way (Acts 9:2; 19:9, 23; 22:4; 24:14, 22) presumably they trusted that Jesus is the way, the truth, and the life (John 14:6). Peter referred to Christianity as "the way of truth" (2 Peter 2:2). People who walk with God do not just follow God's commands but first trust him to be our redeemer. Our steps with God start with him walking toward us in our sinfulness.
Walking with our Neighbor
Jesus would walk between cities with his disciples and people would call out to him for mercy. Jesus would find the people in need and deliver to them the mercy of God. Today people have needs and God calls upon us to use our gifts to share the mercy of Christ with others. We trust God's merciful can change lives. God desires that you see your neighbor. To see other people we pray that God would remove the blindness of our selfishness, bitterness, or anger. The Spirit of God opens our eyes to see his beloved creation as he see it. God opens our eyes to see. He opens our ears to hear. He opens our hands to care.